The general public has become increasingly more and more eco-conscious. With the many information thrown out there on the internet and on social media, consumers are educating themselves of what products have good ingredients, what brands are doing the planet good, and what things they end up want to buy. This is the reason why businesses are always trying to highlight their green or sustainability initiatives – this is also where we should be aware of green washing – but this becomes an opportunity for innovative branding, interior designs, and many other things.
Patom Organic Living is one of the many brands that has furthered its sustainable initiatives and the brand is showing that through the design of its store. Its retail store specifically has a raw, natural theme. To achieve this, designer Nitaprow opens up the store to the outside view that overall looks like a glass box in a rainforest.
Located in residential area called Thonglor, Bangkok, this retail shop building is dominated with clear large, tall glass walls to showcase the view of the trees surrounding it. The 100 square meter space has a 25-chair seating area for people to sit and hang out casually. To promote a building that is eco-friendly and of course sustainable living, Patom Organic Living provides workshops and farmers market that is located on the outdoor part of the space; where the products sold on the farmers market is local produce of the farmers nearby the area that is working closely with Patom Organic Living.
Since the making of the brand, the founder of Patom Organic Living worked together with Sookjai to obtain organic materials. All the ingredients they use are sourced from local farmers, cruelty free, and organic.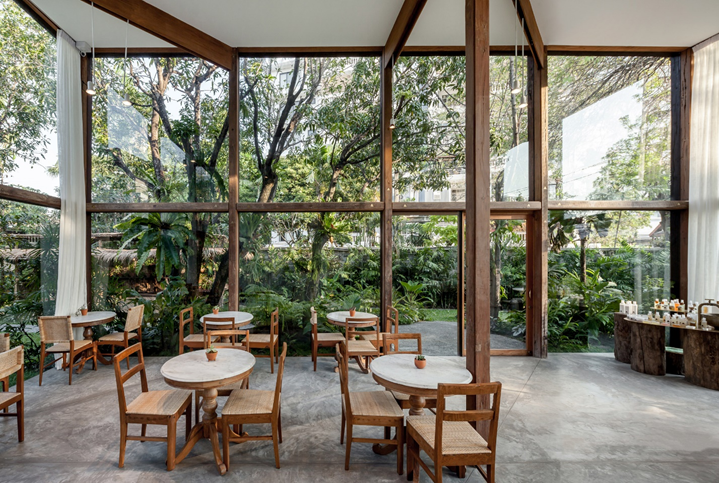 Using the concept of curvature, Nitaprow designed the interior of this retail store with the theme of "rainforest". There is a white spiral staircase on the interior that is wrapped with rattan wood. The size of the space makes everything look very intimate yet happy.
Composition of the wooden beams on the ceiling is inspired by palm trees on the lawn of Patom Organic's land. Nitaprow dominates the space with wood as a part of the renewable and sustainable building program. All columns and beams are reclaimed wood, that used to be abandoned on a shop.
Likewise, the furniture in the space is also 'recycled'. Some of the chairs and tables are made of recycled wood from old, unusable furniture. All this combined creates a sense of organic, coziness, and warmth to the space and to the branding identity as well. (Photo credits: archdaily)