For K-Pop Lover, visiting Seoul, Korea is a must. Other than breathtaking fall and spring seasons in the countryside, the urban scenes in Seoul is also iconic on its own. Not only are there tall modern buildings, but there are also old temples, large food markets, and a plethora of people from different cultures in the city. Seoul is a melting pot of different cultures and it stands as a nice balance between cultural and modern; traditional and futuristic at the same time. No wonder we would find many design-forward establishments: restaurants, interior, stores, and public buildings because every designer competes to produce the newest and the most innovative 'thing' in the city.
Take this store as an example – Juun J's flagship store. Designed by local Korean design studio, WGNB, this retail architecture and interior has a unique intrigue. The architecture is a dark brown geometrical shape, monochrome, and mono-material (means using a single type of material as the main material). The concept drew inspiration from a Japanese writer, Tanizaki Junichiro, who said in his writings how the color black has its own value and meaning we should appreciate. It is how the designer decided to combine curvature, trapezoids, and rectangles into the architecture and interior of the store.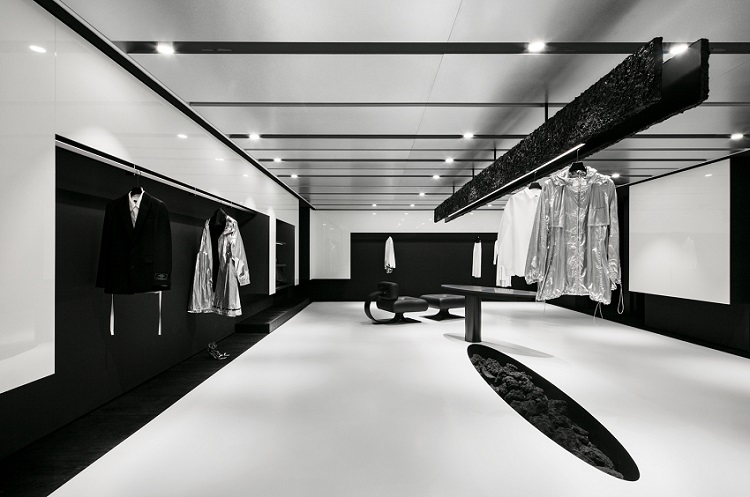 Upon entering the store, the floor is white – and it is in fact the brightest element in the interior. Shelfing, some parts of the walls, and the loose furniture are deep blacks; the other parts of the wall is as white as the floor. It makes it seem as if only white, grey, and blacks are visible.
Other than clothes display, Juun.J's flagship store also has a coffee shop inside, with similar style interior. This coffee shop is operated by Felt Coffee, concept is dark colors starting from the ceiling curvatures to the black countertops. This coffee shop and the clothing store is a unity in style, but the coffee shop acts as a supporting function for when one needs a little refreshments while shopping. This is a method a lot of brands use these days to stimulate offline activation and to promote people spending more time in-store.
Regardless, the blacks in the interior of the store specifically shine light on the clothes they sell, especially when the lighting used is bright white colors. It makes the clothes stand out uninterruptedly as the interior of the store itself is already spectacular and unique on its own.
(photo credits: Yongjoon Choi from archdaily)