With a more conscious strategy and promotion to welcome travelers from around the world, Vietnam is among the most visited countries in Southeast Asia. But do visitors need a visa to enter the country? Is the process easy? How much is the fee? Read this article and find out.
Do you need a visa to enter Vietnam?
In order to answer this question, the important thing is to know the nationality and the visiting purpose of the travelers. In this article, we will cover the tourism purpose only.
In 2020, Vietnam offers visa exemptions to tourists from 24 countries, and e-visas to tourists from 80 countries.
You can apply for a visa on arrival online or in person at a Vietnamese embassy or consulate.
Vietnam Visa Exemptions
Vietnam offers visa exemptions for 14-90 days to citizens of 24 countries with valid ordinary passports. To find out whether or not you can benefit from the visa-free programme, let's check the full list of countries with visa exemptions below.
90 days : Chile
30 days : Cambodia, Indonesia, Kyrgyzstan, Laos, Malaysia, Singapore, Thailand
21 days : Philippines
14 days : Brunei, Myanmar
15 days (with restrictions): United Kingdom, Sweden, Spain, South Korea, Russia, Norway, Denmark, Finland, France, Germany, Japan, Italy.
*There must be a gap of 30 days minimum between two visa-free visits is required. You must also have a printout of the onward plane ticket.
Notes on exemptions:
The exemptions listed above for Denmark, Finland, Japan, Norway, Russia, South Korea, Sweden, France, Germany, Italy, Spain, and the United Kingdom are now temporarily closed due to the Covid-19 situation. Please check with the Vietnam Embassy at your current country for the newest information by the time you plan to travel.
Officers may require travelers to show an outbound ticket on arrival in Vietnam.
If you're not included in the list above, you probably need an e-visa.
An electronic visa, or e-visa, is one of the visa types issued to foreigners by the Vietnamese Immigration Department via an electronic system. This type of visa allows foreigners to travel to and enter Vietnam. E-visa holders can stay in Vietnam for a maximum of 30 days, single entry.
In order to apply for an e-visa, you must:
Hold a valid passport with at least six (6) months' validity,
Not fall into one of the cases of suspension from entry prescribed in Article 21 of law on foreigners' entry into, exit from, transit through, or residence in Vietnam.
You can also use e-visa to enter Vietnam at any of the country's eight international airports, including Hanoi, Ho Chi Minh City and Danang, as well as seven seaports and 14 land crossings.
The e-visa is available to the citizens of 80 countries, as of February 2019. See the full list below:
Document requirements to apply for a Vietnam visa
A passport with six (6) months' validity
A photo in .jpg format of your full passport data page
A passport photo in .jpg format (4×6 cm, white background, without glasses)
A valid international credit or debit card
An email address for support purposes
A temporary address in Vietnam
Your entry and exit dates and entry and exit points/airports
How to Apply for Vietnam e-visa:
Step 1: Prepare the required documents
Step 2: Open the official website for Vietnam e-visa application
Step 3: Upload your .jpg images (passport data page and passport photo) and fill out the required fields on the form.
Step 4: Pay the e-visa fee of US$ 25 using any of the payment methods offered. Copy the document code provided.
Step 5: Within three working days you will receive an email about your e-visa application. Use the document code to locate the e-visa online. Download and print the e-visa in two copies for safety.
Note: Make sure to double-check your personal information when receiving the e-visa. If your personal information does not match with your passport, you may be required to purchase a visa on arrival with a cost of $160.
Vietnam visa on arrival
In case you want to own a multiple-entry visit and stay more than 30 days, a visa on arrival is the one you may want to apply for. Before entering Vietnam immigration, you should prepare the following documents:
A 4×6 passport photo (white background and no glasses)
A fully filled-out visa application form
A passport or substitute ID valid for six (6) months from the date you plan to visit Vietnam
Payment (US$25 per person for single entry or US$50 per person for multi-entry) for visa fees
A letter of approval from a Vietnamese embassy or consulate (if you pick up your visa at the airport)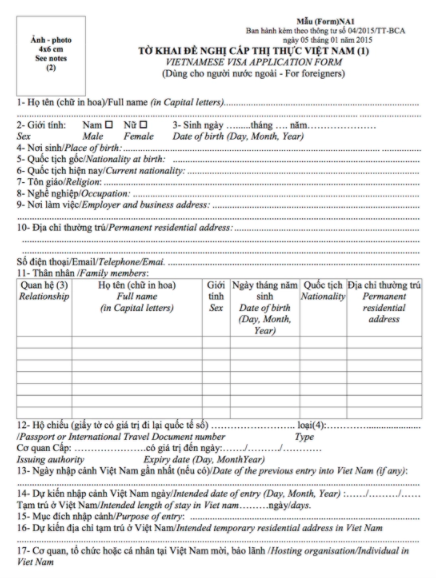 Traveling to Vietnam is as easy as a piece of cake! And Vietnam is absolute travel heaven to discover the beauty of Mother Nature and all the activities that represent Asian culture.