One of the most exciting parts of a capital city like Manila is the vibrant nightlife, but many people tend to skip it because of the fear of crime. After all, Manila is known as one of the most dangerous cities in Asia. However, you will most likely be problem-free with a bit of common sense and precaution. While the countryside has its fair share of fun, no place in the Philippines appeals to social butterflies as Manila does.
In this article, we are delving into the best bars and clubs of Manila.
The Filling Station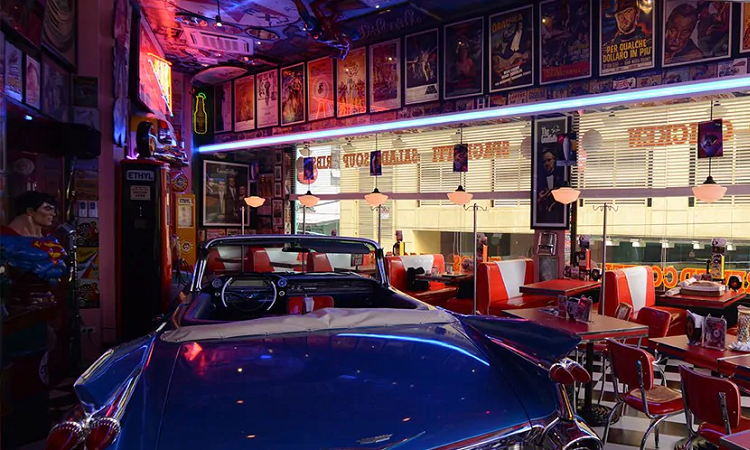 Imagine glowing neon lights, old movie posters, and the collection of nostalgic music playing on a jukebox. The Filling Station is like a time machine, sending its visitors back to 1960s America. The design resembles quaint and rusty petrol stations from those years, just like its name suggests.
Whether you are craving for American or traditional Filipino meals, the menu contains a large variety of options. The waiters dressed in 60s attire will bring massive portions of food, so don't hesitate to go with an empty stomach. The Filling Station is an excellent spot for people who want to socialize through conversation rather than dancing.
Pura Vida
The Philippines is known as the fusion of Latin America and Asia, and even the bars prove this statement. Pura Vida in Spanish means simple life, which summarizes the motto of the bar. You leave your worries and tasks at the door and step foot into a slow-paced social environment.
It is clear from the posters on the walls of Pura Vida that the owners appreciate or even worship Bob Marley, so you can expect to hear a lot of old reggae songs. As for the menu, the Central American meals- especially those from Costa Rica – are on huge demand. For such large portions coming to your table, the prices will be surprisingly affordable, which is why you are going to love it here if you are a backpacker.
El Chupacabra
In a city with abundant Spanish influence, it would be a shame to skip a Tex-Mex Bar. That place in Manila happens to be El Chupacabra, the heart of proper tacos in Manila.
You can either try their signature meat skewer called Pinchos Morunos de Pollo, or pick the oldies-but-goldies like the traditional tacos or quesadillas. Whatever your order is, you will have the opportunity to taste the fresh handmade tortillas or crispy tacos. The reasonable prices will keep you coming back for more, especially during the happy hours. You could enjoy the best quality of local beers with your meals for half the price. You must get there early, though, as the place will get jammed after dark.
Lub d Makati
Just like in any other Asian metropole, rooftop bars are some of the most lively locations in Manila. As part of the Hostel Chain Lub D hostels, Lub D Makati offers panoramic views of Manila while impressing the visitors with its architecture.
As far as the food goes, your options span the western and eastern meals, but the highlights are meals containing the traditional Wagyu Beef. The bar's kitchen received nationwide acclaim for its Wagyu Patty Melt with melted gruyere cheese, so that could be your top choice. Otherwise, you can also taste the variations of nachos or Thai food.
The bar is divided into an open area and a closed and air-conditioned part, meaning you don't have to worry about a sudden thunderstorm. Just like the food menu, the cocktail menu comes with a mixture of gourmet mojitos, French 75, and Bombay gin & tonics.
Opening as early as 6 am, the rooftop bar always surprises its guests with a different menu for every meal. You could have snacks and drinks in the afternoon, and come back an hour later to find a dinner menu with a Thai theme.
BUNK 5021 Hostel
Manila has a wealth of hostels that are more famous for their bars than their actual accommodation facilities. Located at the heart of the throbbing neighborhood Poblacion, Bunk 5021 gained considerable reputation due to its approach to traditional Filipino food. The menu alone is a reason to visit for its use of Filipino slang in the food and drink names. Although some meals on the menu sound too absurd, like Chicken popcorn, they are as fresh and savory as your mother's cooking.
Bunk 5021 is an excellent location for backpackers. Even if you are a solo traveler, you can enter without hesitation and create your friend circle within less than an hour.
Z Hostel
If you want to soak in the magnificent Manila skylight, Z Hostel is the right place. The rooftop bar on the sixth floor of this friendly hostel offers views of Poblacion and Metro Manila districts.
Don't worry if you are not a hostel guest; you are welcome to enter just the same! All you have to do is buy an RFID bracelet at the entrance for 70 pesos and load it with credits worth 300 pesos. Then, the cold local beers and affordable but appetizing cocktails are all yours.
Z Hostel is not a regular backpacker hostel. Its reputation has gotten so widespread that it started hosting live events every weekend. Local and international bands and even famous DJs have been performing here, so don't forget to check out the event schedule.
Nokal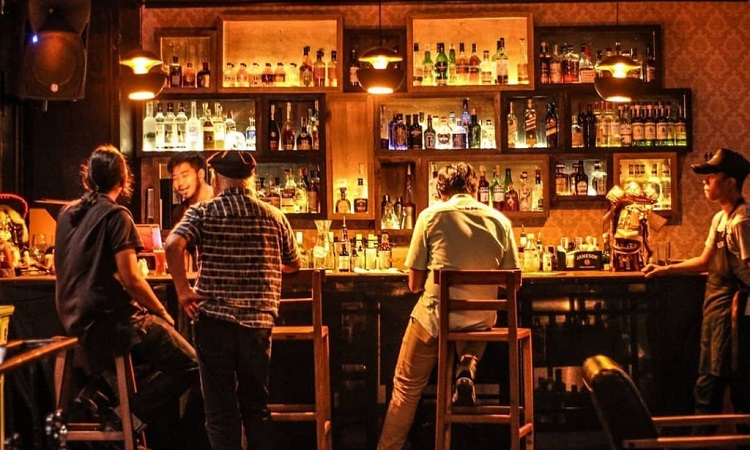 Spending a few nights out in the Philippines, you will come across the local beer brand Joe's Craft Beer. If you are curious about the origins of this flavored beer, you can visit the bar run by the brand's owner.
Located in Makati City, the bar is open until early morning. In average bars, you would have low expectations on the quality of drinks, but Nokal is here to flip the tables. Since the owner Joey Viray gathered a team of the best bartenders in the Philippines, extraordinary cocktails are the norm here. Take a sip of Kampai Highball made from the local whiskey Suntory Kukobin, and you won't want to try cocktails anywhere else in the country.
The three-story building has influences of New York-style bars with distinct sections. Each floor feels like you have entered a different venue; while one level feels cozy with the dim lighting and soft music, another floor will dazzle you with groovy beats and head-spinning neon lights. In a place catering to all moods, you don't need to hop in and out of different bars to have an adventurous night.
The Apartment at Poblacion
A popular type of venue in Manila is one with a house party theme. The Apartment at Poblacion is one such spot that attracts the hipster crowd. When you go through the entrance, you will feel like you went to a real house party, and the roommate of the host is going to come out of his bedroom shouting at the guest.
Having an apartment flat as a bar venue is such a brilliant idea because it can accommodate different types of tourists. The living room is for party animals, while the bedrooms offer comfy conditions for chit-chatters and introverts. Besides, the flat contains an attic with a cocktail bar, a spacious balcony, and a dining area for homemade meals.
What makes house parties so special is the theme nights. The Apartment manages to astonish guests every night with a mixture of original concepts like costume parties and all-time favorites like hip-hop.
Conclusion
Manila is one of the most outgoing capitals in Asia, where you can meet hundreds of friendly locals and internationals. With the trendy bars, mostly located in and near Poblacion, you will be able to cultivate new friendships and unforgettable memories with your new travel buddies. To fly into Manila with the company of absolute comfort and delicious meals, book your ticket from Cathay Pacific.