Travelling to Makkah is a bucket list trip for many people around the world. From the Great Mosque of Makkah to Kaaba, Mount Arafat, and Abraj Al Bait Mall, this desert valley in western Saudi Arabia has plenty to keep visitors occupied.
But no trip is possible unless you are powered with enough food to keep you going through your packed itinerary. There are fantastic places to eat in Makkah, as long as you know where to go and what to order!
To help you plan your upcoming trip to Saudi Arabia, we have compiled the three essential places to eat in Makkah, as well as a selection of local foods you should try while exploring. Happy dining!
1. Shaza: For epic food and breathtaking views
Not only does Shaza have some of the best hotels in Makkah, but this luxury hotel also has drool-worthy restaurants. With two different restaurants to select from — Midan and Shalimar — this is the place you go to when you are looking for a little luxury in your travel itinerary.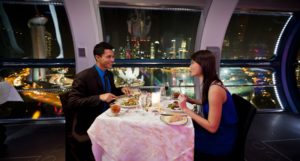 Located on the fourth floor of Shaza Hotel, Midan is an all-day eatery which offers diners meals spanning the Middle East, Levant, India, Morocco, and Turkey. Described as "effortlessly chic", this restaurant is a feast for both the eyes (you have views across to the Haram), the stomach, and the soul.
Shalimar is the hotel's mezzanine level lounge and is the ideal place to sip a signature mocktail or pot of tea with your fellow travel companions. In fact, their signature tea ceremony should be a must-do activity during your stay in Makkah.
2. Albaik: For affordable local eats
Albaik is undoubtedly one of the most loved restaurants in Makkah and the entirety of Saudi Arabia. Specializing in fried chicken (think a Big Baik sandwich, Chicken Fillet Nugget Snack and an Albaik Chicken Meal) as well as offering fried fish options (Fish Fillet Meal, Fish Fillet Sandwich, and a Jumbo Shrimp Meal), Albaik is the local's favourite fast food restaurant.